This past summer I was horrified to see a wart on the knee of my oldest son, Liam; I know that warts are extremely hard to get rid of and if you don't get rid of them, they can spread. I wanted to deal with this "thing" immediately, so I opened up my book on essential oils (Book: http://amzn.to/1cGOnAW *) I found that warts can be treated by a combination of a number of oils, and they should be diluted properly and placed on the affected surface 1-2 times per day. So here's what I did:
1. I mixed equal parts of oregano oil with fractionated coconut oil (remember, a little goes a long way! http://amzn.to/1azTW4s)
2. I also pulled out my doTERRA OnGuard oil. (This product is amazing and I take it in capsules when I start to feel a cold coming on: http://amzn.to/1bayQtb)
3. With one of those little round adhesive bandages, I took an eyedropper and put ONE drop of the oregano blend and ONE drop of OnGuard directly onto the pad of the bandage. Place the bandage directly on the surface of the wart and make sure that the edges are adhered completely to the skin…you don't want the oils to evaporate, you want them to soak into the skin since they're anti-fungal and anti-bacterial.
4. Repeat step #3 in the morning and again in the evening before bed.
We did this religiously for about 5 days and the wart looked like it was starting to get dry and crusty around the edges. Then, life happened and we got busy…and I forgot to put the oils on. After a few more days, Liam said that his knee had started to bleed a bit at camp that day, so I looked at it and I'm not kidding you, the wart was pulling away from the healthy skin and it was shriveling up into a little nub. That encouraged me to start back up with the oils and a few days later, the wart was only connected by the root; if you poked at it you could see this nasty white "string-like" root connected deep in his knee (I know, this is gross and I might be gagging a little as I relive it!). I wanted to pull that sucker off, but my son said it hurt and he didn't want me to touch it. As luck would have it, he and some friends were playing around on the turf at our local sports center the next day, and Liam fell on the turf. He fell just perfectly onto his knees and it ripped that wart out by the root! Our friend was there and said that there was a lot of blood, but not too long after the wart came out, the bleeding stopped. Liam had a hole in his knee that we kept covered for a day or two to make sure it didn't get infected, but to this day that wart is gone and hasn't come back! Not too shabby for a 2 week wart remedy, and I have to say that my husband believes in the power of essential oils a little more now that we have physical proof that they work!
Below left: Liam's knee before any oils, below right: after 2 weeks of oil treatment–you can see where he had a scab from where the wart came off, but today he has no visible marks on his knee.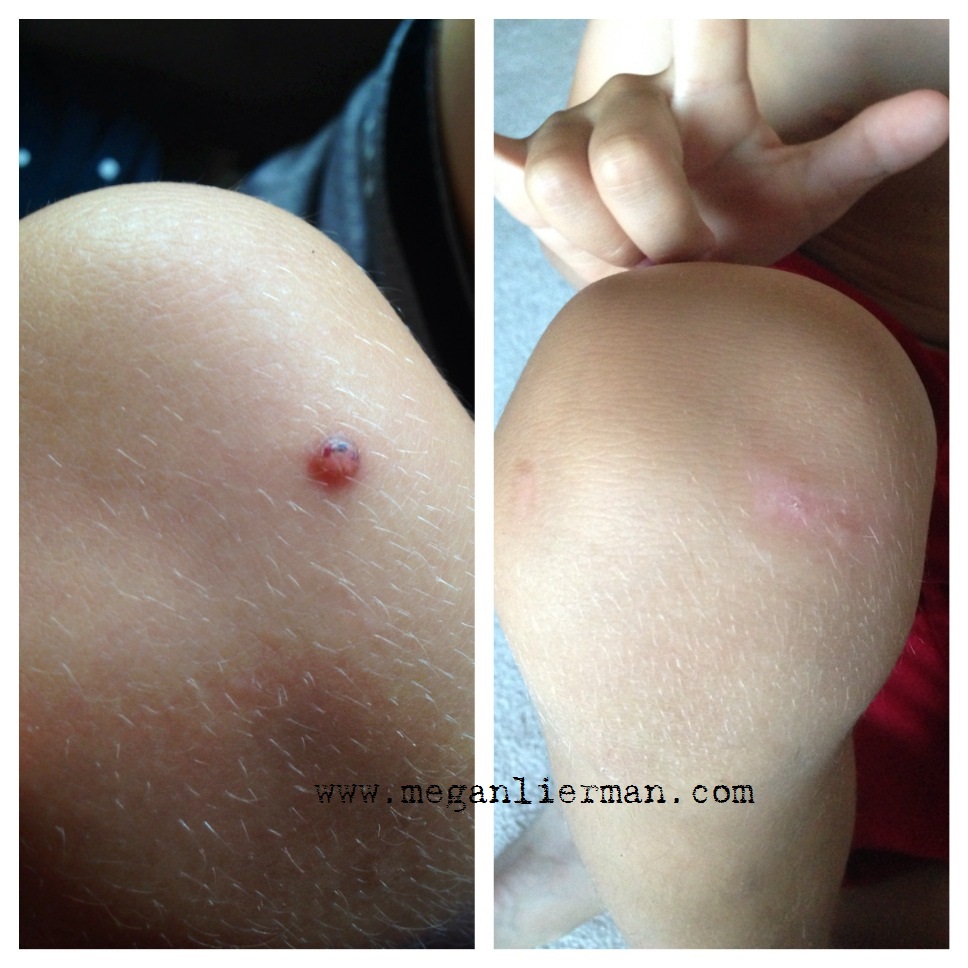 *Posts may contain affiliate links. I may receive a small commission from  sales made through these links, and I assure you that I only promote products that I actually use and love. The commissions received through your purchases help maintain this site.