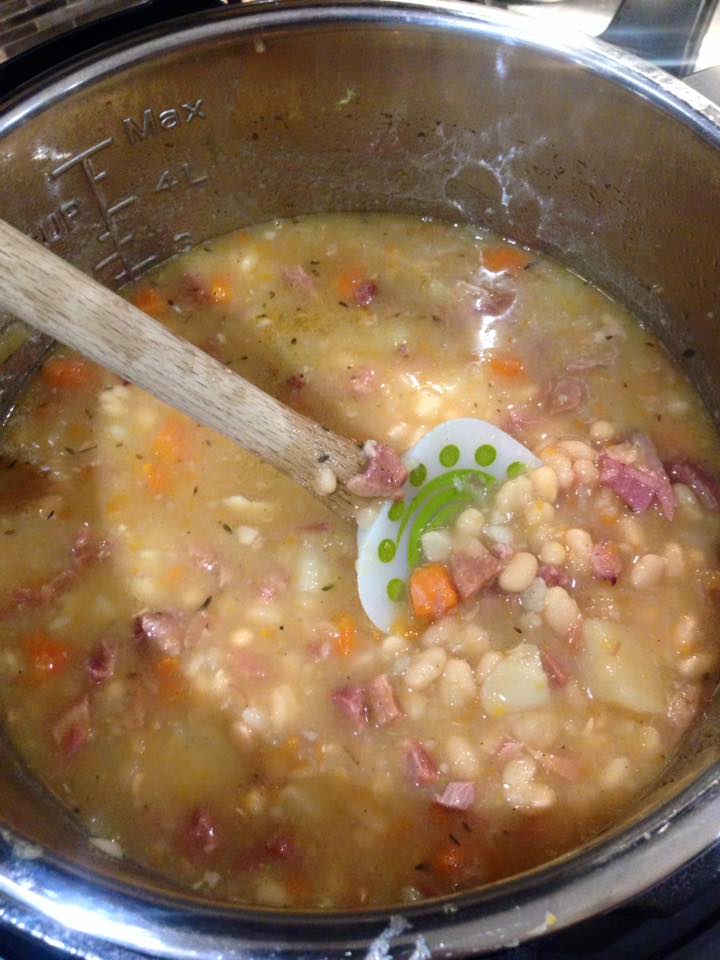 I LOVE my grandmother's navy bean soup, but it takes forever to make with soaking the beans overnight and then slow cooking the soup all day. I decided to try it in my Instant Pot and it was a success! Not only that, but my kids loved it…score!
Ingredients:
1-2 Tbs. olive oil
1 onion, diced
3 medium yellow potatoes, peeled and diced
3 carrots, peeled and diced
1 Tbs. minced garlic (about 4 large cloves)
1 tsp. salt
1 tsp. pepper
1 tsp. dried thyme
1-2 cup ham, diced
1 lb. dry navy beans
8 cups liquid – I used 8 c. water and a scoop of gluten free chicken bouillon (note: use warm or hot water as it'll take less time for everything to heat up and cook)
Directions:
Turn Instant Pot to sauté and add oil.
When oil is shimmering, add onions and sauté until translucent.
Add remaining ingredients, and place the lid on the pot, making sure the valve is on "sealing", not "venting".
Turn the setting to Manual and set the timer for 20 minutes.
When the timer goes off (it took about an hour total for the pot to come to pressure and cook), let it sit and do a natural release for about 5 minutes. Put a towel over the steam spout and manually release the rest of the pressure…the towel will contain any splatters that might come with releasing the pressure.
At this point I take a potato masher and hand mash the soup for a little bit so that the soup is creamier and not so brothy–just like grandma's! Taste and adjust the seasonings as needed. Enjoy!