Baked oatmeal

Print recipe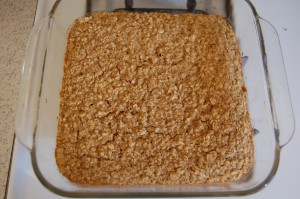 Baked oatmeal, gluten free, dairy free.
Ingredients
3 cups Gluten free oats
3/4 cups Brown sugar
2 teaspoons Baking powder
1 teaspoon Cinnamon
1/2 cup Applesauce
1 teaspoon Vanilla
1 cup Almond milk (Soy or rice milk works well too)
2 Eggs (I use duck eggs as my children have chicken egg allergy. Egg replacer does not work well in this recipe.)
1/2 teaspoon Salt
Note
I spent a summer doing construction in Africa and one of the breakfast meals that I was introduced to, tea and baked oatmeal, quickly became a favorite of mine. So simple and tasty and it reminded me of home.
I have made many versions of this recipe, but this basic one is my favorite. Most baked oatmeal recipes call for the addition of oil or butter, but I like the cake texture and the reduced fat that the applesauce offers. This is a weekend favorite in our house.
Directions
| | | |
| --- | --- | --- |
| 1. | | Preheat oven to 350 degrees. |
| 2. | | Mix all ingredients and pour into a greased 9x9 pan. |
| 3. | | Bake for 25-35 minutes or until edges turn golden brown. |
| 4. | | Eat as-is or in a bowl with berries or with a sprinkle of brown sugar and non-dairy milk. |