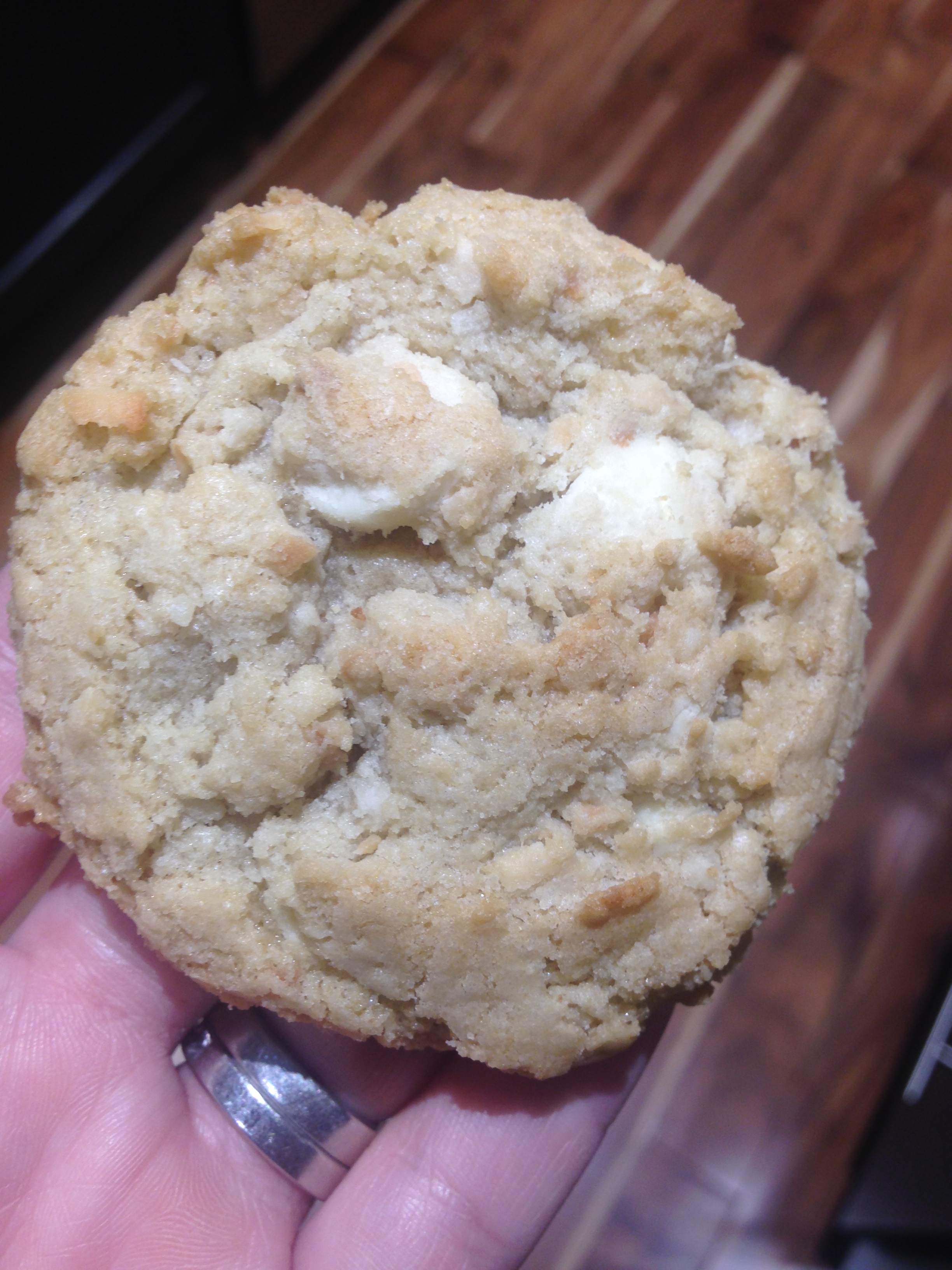 The other day I wanted to make chocolate chip cookies, only I discovered that I didn't have any chocolate chips. I had white chocolate chips though, so I decided to make macadamia white chocolate chip cookies. Then I discovered that I didn't have any macadamias! I found some coconut and decided to make do with what I have…and I came out with a gluten free cookie that even my gluten-loving husband ate (and ate lots of them)! These cookies were inspired by Baked by an Introvert.
Ingredients:
1 cup sweetened flaked coconut
1-1/2 cups gluten free flour blend (I use this one. If your flour blend doesn't include xanthan gum, add some according to package directions)
1/2 teaspoon baking soda
1/4 teaspoon salt
1 stick butter
1/2 cup granulated sugar
1/2 cup packed light brown sugar
1 teaspoon gluten free vanilla extract (this one is my favorite)
1 large egg (you can use an egg replacer!)
1 cup white chocolate chips
Instructions:
Preheat the oven to 350F degrees. Spread the coconut on a foil-lined baking sheet (presto–no dishes!). Bake for 7-10 minutes or until the coconut is light brown; set aside to cool.
In a bowl, combine the gluten free flour blend, baking soda, and salt; stir with a whisk.
In a stand mixer, combine the butter and sugars; cream. Add the vanilla and egg and mix until the egg is incorporated. Add the flour mixture to the butter mixture, then add in the coconut and white chocolate chips. Cover and refrigerate the dough for at least 1 hour (this allows the gluten free flour to absorb some moisture and the cookies won't have a grainy texture).
Preheat the oven to 350F degrees. Using a small cookie scoop, scoop balls of dough and place 2″ apart on a baking sheet lined with a silicone mat. Bake for 10-12 minutes, or until the edges of the cookies just begin to brown. Allow the cookies to cool on the pan for 10 minutes. Transfer the cookies to wire racks to cool completely.
Don't forget to follow me on Facebook: www.facebook.com/GFAFRecipes
Disclosure: Some of the links in the post above are "affiliate links." I am a participant in the Amazon Services LLC Associates Program, an affiliate advertising program designed to provide a means for sites to earn advertising fees by advertising and linking to amazon.com. Regardless, I only recommend products that I use personally.