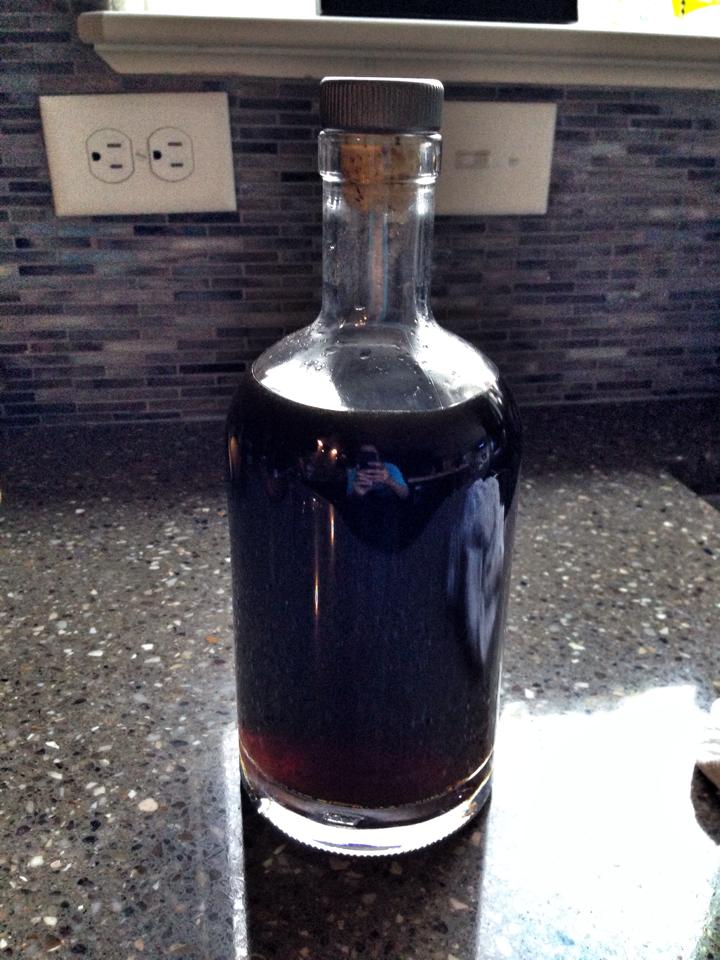 I love a good White Russian cocktail once in a while…my husband makes the best ones ever (but maybe that's because cocktails always taste better when someone else makes it!). We were almost out of Kahlua when I looked in my cabinet, so I decided that I'd try to make my own since I had all of the ingredients. I thought it turned out so well that I entered it into the Alaska State Fair this year and I came away with a 2nd place ribbon! *Note: You need to prepare this in advance–don't expect to make this one night and drink it the next as you need to allow time for the flavors to mature and develop.
Ingredients:
1 c. ground coffee (I used THIS one since I had it in my pantry)
2 1/4 c. water
1/2 c. packed dark brown sugar
1 1/2 c. gluten free light rum (check with manufacturers as they occasionally change their recipe formula)
1 vanilla bean, sliced lengthwise and seeds scraped and set to the side
Directions:
Put ground coffee and 2 c. COLD water in a glass measuring cup. Stir, cover with plastic and let sit overnight.
Strain the mixture using cheesecloth over a strainer, then strain again through a coffee filter set in a strainer. Throw the coffee grounds away. Pour coffee mixture into a large bottle (the one I used in the photo is a recycled 750ml Scotch whiskey bottle); I used a funnel so that I wouldn't make a massive mess.
In a small pan, mix remaining water with brown sugar. Heat over medium, stirring constantly, until sugar is dissolved. Remove from heat and cool to room temperature. Add the vanilla bean seeds that you scraped out of the pod to the sugar mixture while its cooling.
Add cooled sugar water, vanilla bean pod and rum to your bottle of coffee concentrate. Cork the bottle and let it sit for at least two weeks in a dark place. I went into my pantry almost every day to swirl the bottle so that the vanilla really permeated the mixture.
After two weeks or so, remove the vanilla bean pod and strain the mixture through a coffee filter once more to get rid of any sediment at the bottom of the bottle.
Sample some, sample some more, rebottle and drink up, baby!