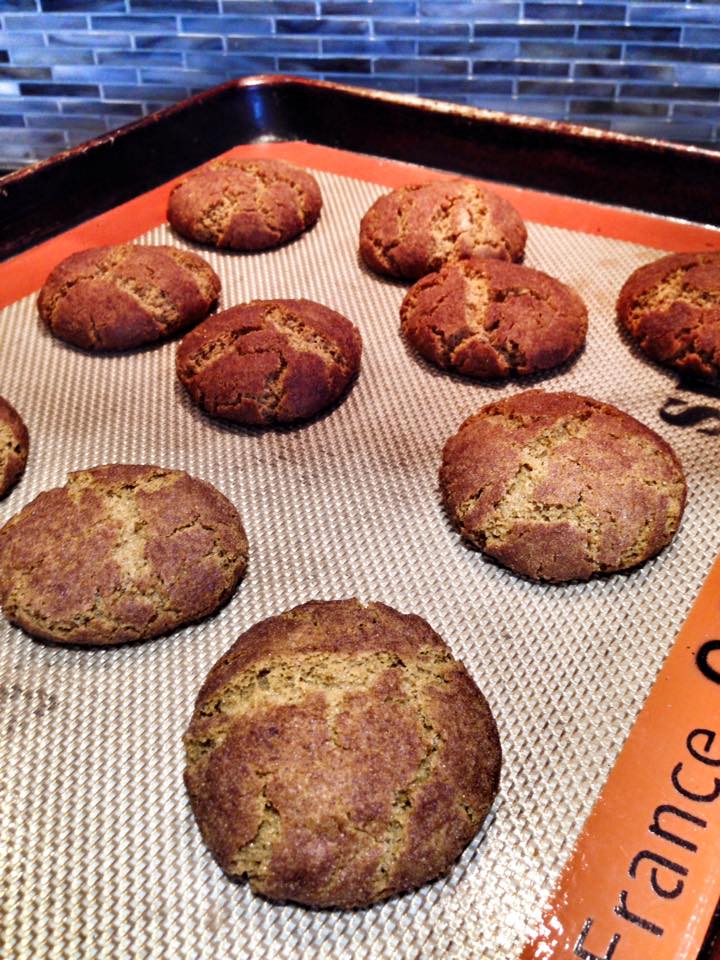 I made gingersnaps for the first time the other day and I was pleasantly surprised with how they turned out. Not because I doubted that I could convert a recipe, but because traditionally I don't like gingersnaps. I hate crunchy, crumby cookies. I like chewy ones. Our family calls hard, crunchy cookies "dunkers" because you have to dunk them in milk or coffee to become edible, whereas soft, chewy cookies are called "benders" for obvious reasons. But these had a crunch to the exterior and a nice, chewy inside. I ended up baking one cookie sheet for a little longer than I would normally just so I could have some extra crispy ones to make into a parfait.
Ingredients:
1 Tbs. flax meal mixed into 3 Tbs. warm water
3/4 c. shortening
1 c. brown sugar
2 tsp. ground ginger
2 tsp. baking soda
1 tsp. cinnamon
1/2 tsp. ground cloves
1/2 tsp. salt
1/4 c. molasses (NOT blackstrap! I use this kind of Molasses)
2 c. gluten free flour blend
1/3 c. cinnamon sugar (mix equal parts cinnamon and white sugar in a bowl)
Directions:
Mix flax meal in warm water and set aside for at least 5 minutes to allow to thicken into a gel.
Preheat oven to 350 degrees.
In a stand mixer, beat shortening with brown sugar. Once light and fluffy, add spices and molasses.
Add gluten free flour 1/2 c. at a time until all flour has been added.
Using a small cookie scoop, scoop even amounts of dough, roll in a ball, and roll the dough ball in cinnamon sugar so that it is covered on all sides.
Place cinnamon sugar covered balls on a baking sheet lined with a silpat mat.
Bake at 350 degrees for 10 minutes or until edges of cookies are slightly browned.
Remove from oven and let them cool down just a bit before eating so you don't burn the crap out of your mouth!