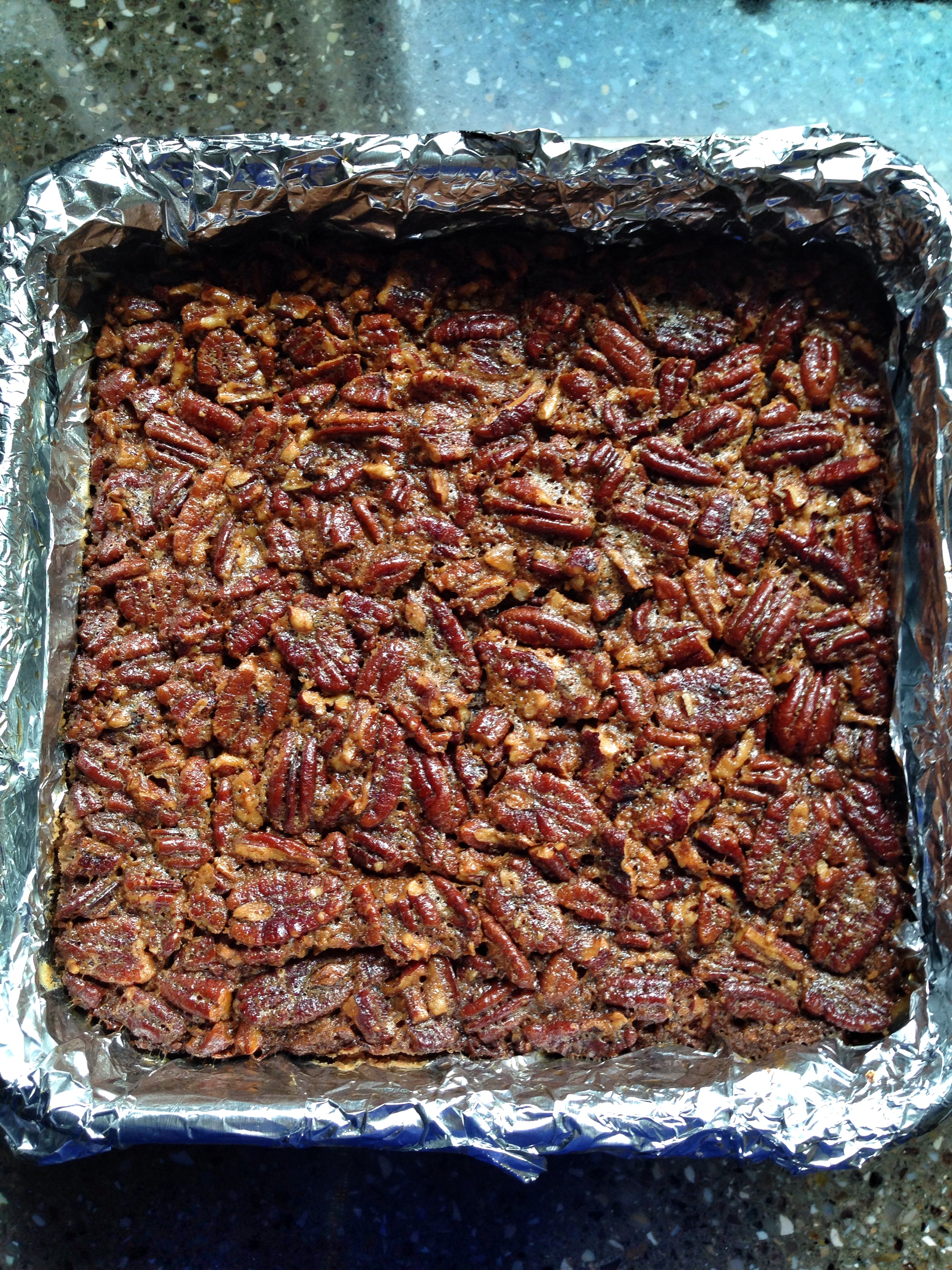 I'm not a huge pie fan, but I've always loved the filling for pecan pie. This past spring I tasted some pecan pie bars that had a shortbread crust, so I thought I'd try making them instead of paying $6 for a small bar made by someone else. These are based on a recipe I found in Better Homes & Gardens; I made these and took them to a friend's house; they were gone so fast that I didn't even have a change to take a photo of them out of the pan! These will definitely be served at Thanksgiving this year.
Crust:
1 1/4 c. gluten free flour blend of your choice (I like THIS one, but it does contain dairy)
1/2 c. powdered sugar
1/4 tsp. salt
1/2 c. cold butter or nondairy butter, cut into chunks (Earth Balance has a good dairy free butter that is also soy free)
2 Tbs. ice cold water
Filling:
2 eggs OR 2 Tbs. flax meal mixed into 6 Tbs. warm water.
1/2 c. brown sugar
1/2 c. light corn syrup
2 Tbs. melted butter
1 1/2 tsp.vanilla extract
1/2 tsp. cinnamon (optional)
1 1/2 c. pecans, chopped or whole
Directions:
1. Preheat oven to 350 degrees. Line 8×8 pan with foil.
2. In a food processor, mix gluten free flour, powdered sugar, salt and butter. Once the butter is in pea-sized pieces, add the ice water and process briefly. At this point the crust ingredients should stick together, but not be sticky. If it is crumbly still, add more water by the teaspoon until the ingredients just stick.
3. Press the crust material into the baking pan, pressing to make sure that the crust is even.
4. In a bowl, mix the egg or flax meal gel, sugar, corn syrup, melted butter and vanilla until well blended. Stir in pecans.
5. Pour egg mixture on top of crust.
6. Bake for about 20-30 minutes or until the filling is set.
7. Let cool. Remove bars from pan by lifting edges of foil. Cut bars and serve! Store any leftovers in an airtight container.