gluten free / vegan chocolate banana caramel cake

Print recipe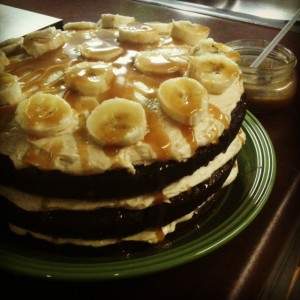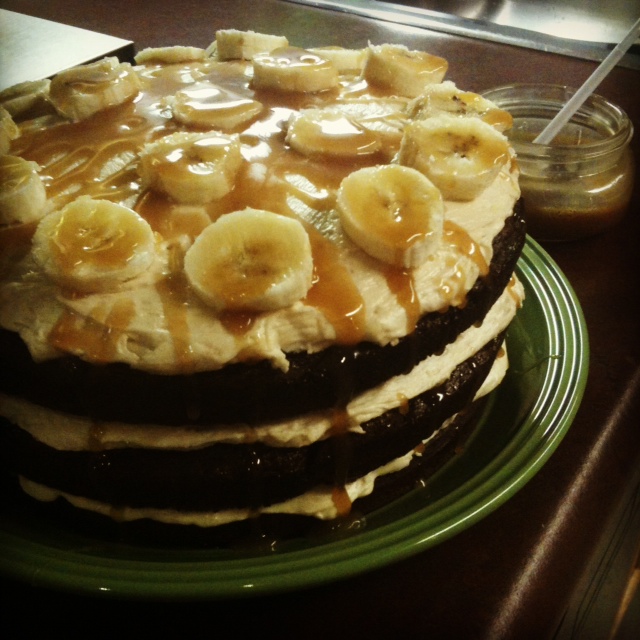 | | |
| --- | --- |
| Serves | 12 |
| Prep time | 30 minutes |
| Cook time | 1 hour |
| Total time | 1 hour, 30 minutes |
| Dietary | Gluten Free, Vegan, Vegetarian |
| Meal type | Dessert |
| Website | Adapted from thekitchn.com |
Ingredients
Caramel Sauce
1 c. brown sugar
1 c. granulated sugar
1 c. nondairy milk
4 Tbs. nondairy butter alternate
1/2 tsp. salt
Cake
3/4 c. nondairy butter alternate
3/4 c. granulated sugar
3/4 c. brown sugar
3 Tbs. flax meal + 9 Tbs. water
1 1/2 c. rice flour
3/4 c. sorghum flour
3/4 c. tapioca starch
3/4 c. cocoa powder
2 tsp. baking soda
1 1/2 c. nondairy milk alternate
1/2 tsp. salt
2 tsp. gluten free vanilla extract
1 1/2 c. mashed bananas
1 1/2 tsp. xanathan gum
1 1/2 c. caramel sauce
Frosting
1/2 c. nondairy butter alternate
1/2 c. caramel sauce
1 tsp. gluten free vanilla extract
1/4 tsp. salt
1 1/2 c. powdered sugar
Note
My friends gave me a piece of this cake to try, only they used a gluten free chocolate cake mix...it was fabulous! I pretty much refuse to make anything from a mix since you can't control your baking results, so I set off to make my own chocolate banana caramel cake that was not only gluten free, but egg & dairy free as well. I've had rave reviews on this recipe, so I hope you enjoy it!
Directions
Caramel Sauce
1.
Mix all ingredients and bring to a boil, stirring frequently. Once at a boil, stir constantly for 2-3 minutes or until sauce is thick.
2.
Set aside and let cool. (can be made a few days or weeks in advance).
Cake
3.
Mash bananas and mix with baking soda (it should bubble up a bit); set aside.
4.
Cream nondairy butter alternate with sugars; add flax meal mixture.
5.
Gradually add remaining ingredients, alternating liquid & bananas with dry ingredients.
6.
Once all ingredients are incorporated, beat at medium speed for 3-4 minutes.
7.
Pour into three greased pans; swirl 1/2 c. of caramel sauce into the batter.
8.
Bake in a preheated oven at 350 degrees for 40-45 minutes or until toothpick inserted into cake comes out clean.
9.
Remove immediately from pans and cool on wire rack.
10.
Frost with frosting and drizzle remaining caramel over cake or onto individual slices once the cake is cut.
Frosting
11.
Cream all ingredients together until frosting is light and fluffy.
12.
Layer frosting evenly between cake layers.
13.
Eat & enjoy!