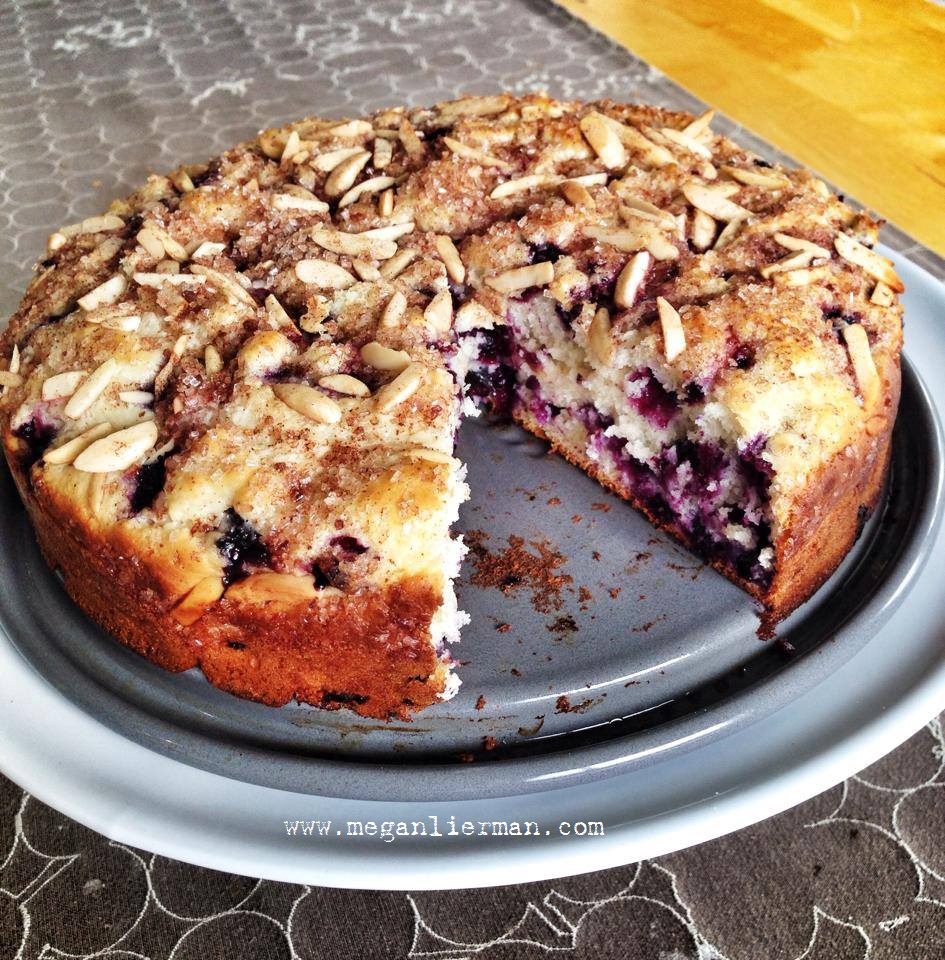 If you follow me on Facebook (www.facebook.com/GFAFRecipes), you know that we went on a blueberry picking expedition yesterday and came home with bags full of blueberries. So, this morning, it was only natural to make a blueberry coffee cake for breakfast. This recipe was modified from a recipe in Southern Living. I hope you like it!
Blueberry Coffee Cake:
1 egg (I haven't tried flax gel as a replacer yet, but you can try it for an egg-free version. 1 Tbs. flax meal mixed into 3 Tbs. warm water)
2/3 c. milk  or nondairy milk
1/2 c. sour cream or nondairy sour cream
3 Tbs. oil
2 c. gluten free flour blend (I use this one: http://amzn.to/UV5Rru)
1/2 c. sugar
4 tsp. baking powder
1/2 tsp. salt
1 1/2 c. frozen blueberries
2 Tbs. Turbinado sugar
2 Tbs. sliced or slivered almonds, optional
1/2 tsp. cinnamon
1. Preheat oven to 375.
2. In a large bowl, mix first 4 ingredients; mix in sugar, baking powder, and salt.
3. Stir in gluten free flour blend and stir until just mixed.
4. Fold in blueberries
5. Grease a springform pan & spoon batter in, smoothing until evenly spread
6. Mix Turbinado sugar, almonds & cinnamon; sprinkle evenly on top of batter
7. Bake 25-30 minutes.
8. Remove from oven and let cool 15 minutes, then remove springform pan sides.
9. Enjoy!