gluten-free sourdough cinnamon bread

Print recipe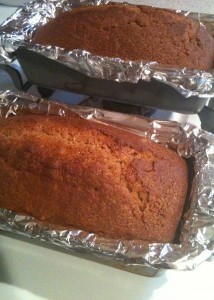 amish cinnamon bread, gluten free cinnamon bread, easy bread, breakfast bread.
Ingredients
1/2 cup gluten-free sourdough starter (see additional recipe on website)
1/2 cup vegetable oil
1/4 cup milk alternate (I use vanilla almond milk)
2 Eggs
1/2 cup Brown sugar
1/4 cup Applesauce
1/2 cup Tapioca starch
1/4 cup of each: potato or cornstarch, millet and rice or quinoa flour
1 1/2 teaspoon Baking powder
1/2 teaspoon baking soda
2 teaspoons xanathan gum
1 box dairy-free vanilla pudding mix (As of the date that I'm uploading this recipe, Jell-o instant pudding is dairy free. That being said, manufacturers change ingredients and recipes regularly so READ THE LABELS!)
1/4 teaspoon Salt
3/4 teaspoons Cinnamon
1 teaspoon gluten free vanilla
Note
Don't be afraid of how many ingredients are listed here--it's worth it! My boys will devour an entire loaf for breakfast if I let them. The recipe makes two loaves; slice the bread, wrap and freeze if you won't be eating it all within a few days.
Directions
| | | |
| --- | --- | --- |
| 1. | | Mix wet ingredients in a heavy stand mixer. |
| 2. | | On low speed, add dry ingredients slowly. Once dry ingredients are well incorporated, increase speed and beat batter for 3-4 minutes or until really thick. |
| 3. | | Smooth batter equally into two prepared loaf pans. Spray a spatula with non-stick cooking spray so batter doesn't stick. |
| 4. | | Bake 365 degrees for 1 hour or until a tester comes out clean. |
| 5. | | **Note: I line my pans with foil because I hate washing loaf pans...once the bread is done cooking, remove foil from pan and let bread cool in foil. Once bread is cool, peel foil away, slice and eat! |