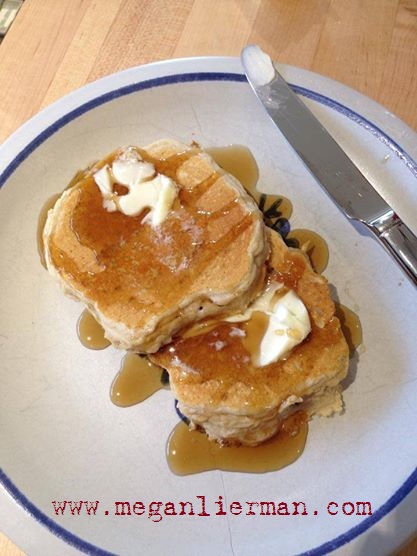 I posted this photo of the fluffy gluten free pancakes that I made, and I was met with responses ranging from "I LOVE pancakes!" to "fluffy AND gluten free?? I don't believe you!" I used a gluten free flour blend (http://amzn.to/1hNi1Z3) since it seems like a lot of people tend to think blends are easier to cook with and I was pleasantly surprised. This recipe is adapted from one I found on Allrecipes.com about a hundred years ago.
Pancakes:
1 c. milk or nondairy milk
2 Tbs. vinegar
1 c. gluten free flour blend
1 tsp. baking powder
1/2 tsp. baking soda
1/2 tsp. salt
1/2 tsp. cinnamon
1 egg*
2 Tbs. olive oil
1 tsp. vanilla extract
1. If you are using regular milk or soy milk, pour milk into a bowl and mix in vinegar; set aside. If you are using milks other than regular or soy, skip this step and add later or else your milk will curdle and separate. (Nobody likes chunks in their pancakes!)
2. In another bowl, whisk together gluten free flour blend, baking powder, baking soda, salt & cinnamon.
3. Add egg*, oil, vanilla and milk/vinegar mixture. Whisk until thoroughly blended.
4. Pour onto a hot griddle and smooth down with a spatula so the surface thickness of each pancake is the same. Don't worry about them looking too thin at first–I promise you'll they'll puff up once you flip them!
5. Cook on a griddle until browned on both sides and cooked through. I found that I had to cook the pancakes on low temperature for a longer period of time than you would with "regular" pancakes to allow them to cook through the center.
6. Load up with butter & syrup and enjoy!
*I haven't tried to make these with an egg replacer yet, so I can't comment on how they'll turn out.
Don't forget to follow me on Facebook: www.facebook.com/GFAFRecipes