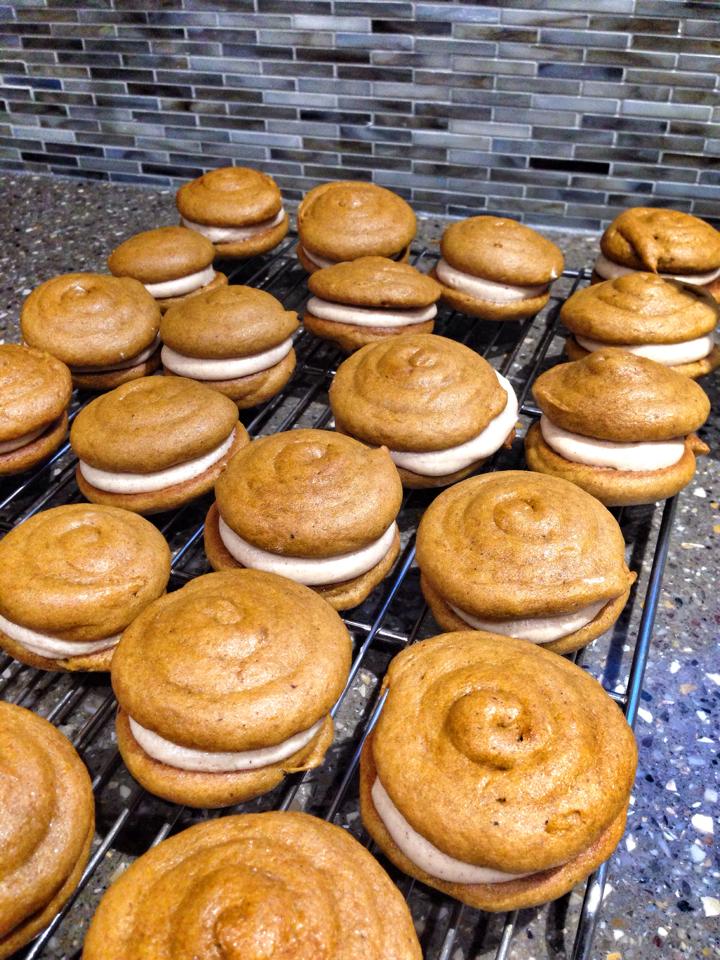 There's something cozy about eating spiced cake and pumpkin everything at this time of year. I love sandwich cookies, but these are more like little cakes that you can eat with your hands…light and fluffy and quite easy to make! Adapted from Dreamy Desserts. Yield: about 18 cookies.
Cookie Ingredients:
1 1/2 c. gluten free flour blend
2 tsp. ground cinnamon
1/2 tsp. baking soda
1/2 tsp. baking powder
1/2 tsp. ground ginger
1/4 tsp. salt
1/4 tsp. nutmeg
1/4 tsp. ground cloves
1/2 c. dark brown sugar
1/2 c. granulated sugar
1/2 c. vegetable oil
1/2 can of pumpkin puree
1 egg (alternately use your favorite egg alternate)
1 tsp. vanilla extract
Directions:
Preheat oven to 350 degrees
Mix dry ingredients in a bowl and set aside.
Beat together sugars, oil, and pumpkin. Add egg or egg alternate, then vanilla, and mix thoroughly.
Add dry ingredients a little at a time, until everything is mixed.
Set cookie batter aside for 30 minutes. This allows the gluten free flour to absorb some moisture and your end product won't be "grainy". DO NOT SKIP THIS STEP!
Using a pastry bag or plastic bag with corner snipped out, squeeze 2″ diameter circles of batter onto a greased cookie sheet. I use THESE disposable pastry bags because I absolutely hate cleaning pastry bags.
Cook for about 8-10 minutes or until the cookies are cooked through and starting to brown.
Remove cookies from pan and let cool on wire rack
While cookies are cooling, make cinnamon buttercream frosting
Cinnamon Buttercream Ingredients:
1 stick of butter at room temperature (works well with non-dairy butter)
1 Tbs. ground cinnamon
2 c. powdered sugar
1 tsp. vanilla
1-3 Tbs. milk or non-dairy milk, as needed
Buttercream Directions:
Beat butter, cinnamon and vanilla until mixed.
Add powdered sugar a little bit at a time, adding milk to thin out the consistency as needed.
Once the frosting looks "right" (not too stiff and dry, not too watery), beat on medium speed for a minute or two.
Using another disposable pastry bag, pipe a fat swirl of cinnamon buttercream on one cookie and top with another. Repeat until all cookies are done.
Eat and enjoy!