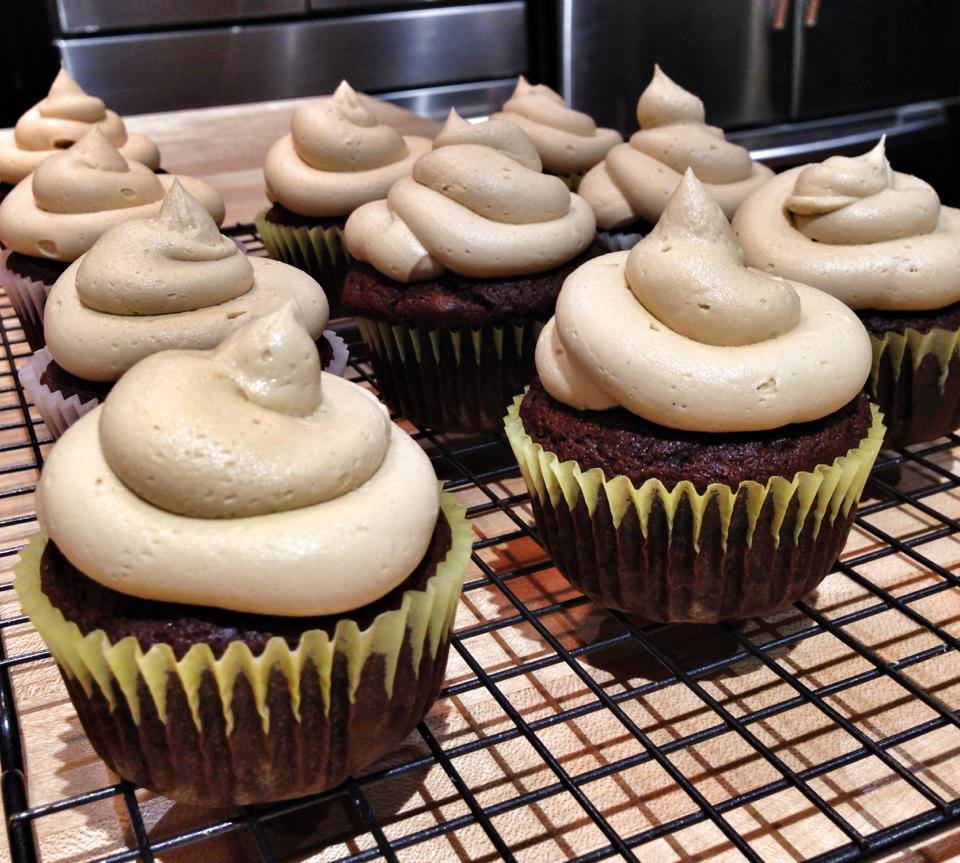 I learned of these cupcakes (from Brown Eyed Baker) from my neighbor, and I've since turned these into a gluten free version, with dairy free and egg free alternates.
For the Cupcakes:
1 1/4 cups gluten free flour
⅓ cup unsweetened cocoa powder
1 tsp. baking powder
½ tsp. baking soda
¼ tsp. salt
2/3 cup  milk (canned, full fat coconut milk works)
½ cup strong brewed coffee, at room temperature
1 package Starbucks via instant coffee
1 tsp. vanilla extract
½ cup (1 stick) butter, at room temperature (you can also use non-dairy butter)
½ cup granulated sugar
½ cup light brown sugar
1 egg (you can put 1 Tbs. fax meal into 3 Tbs. warm water and let sit until it turns into a gel as an alternate)
For the Espresso Buttercream Frosting:
1 cup (2 sticks) unsalted butter, at room temperature (you can use non-dairy butter)
2½ cups powdered sugar
1½ tsp. vanilla extract
1 package Starbucks via instant coffee
1. Preheat oven to 350 degrees; line cupcake tin with paper or foil liners.
2. Mix contents of espresso pack into the cold coffee. Add milk and vanilla. Set aside.
3. Mix the gluten free flour, cocoa powder, baking powder, baking soda and salt in a bowl & set aside.
4. Cream the butter with the sugars, then add egg or flax meal.
5. Alternately add the flour/chocolate mixture and the wet ingredients.
6. Let batter sit for roughly 20 minutes to allow the gluten free flour to absorb some moisture (nobody likes gritty baked goods!)
7. Spoon into cupcake liners and bake 18-20 minutes, or until cooked through. Allow cupcakes to cool completely.
8. While cupcakes are cooling, make the frosting. Start by dissolving the instant coffee in the vanilla; set aside.
9. Cream the butter on medium speed for 2-3 minutes. Scrape the bowl to make sure all of the butter is getting whipped.
10. Slowly add the powdered sugar, a little at a time, allowing to be completely mixed in before adding more.
11. Once powdered sugar is mixed in, increase mixer speed to medium and whip for a minute. Reduce speed and add espresso/vanilla mixture, making sure to scrape the sides of the bowl to completely blend everything.
12. Frost your cupcakes and enjoy!