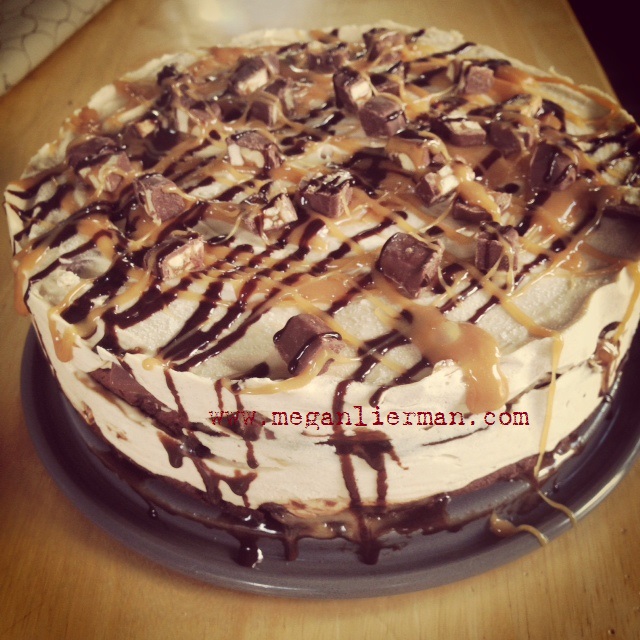 I ran across THIS recipe on Pinterest not too long ago and my mouth instantly started to water. I already have a to-die for gluten free brownie recipe that I used for the base of this ice cream cake, and I just followed the rest of Life, Love & Sugar's recipe. I'll be trying this recipe again to see if I can manage to make the entire thing dairy-free, so stay tuned for that. It's a little labor intensive, but if you have kids, put them to work chopping mini Snickers bars with butter knives while you prep the rest. (As an FYI, if you go this route, you might need to buy more mini candy bars because the "helpers" will likely eat their body weight in candy). P.S. something like this would be great for getting rid of leftover Halloween candy!
INGREDIENTS:
1 gluten free  brownie recipe (my recipe is
HERE,
just use only the ingredients noted for the "Brownie layer", or prepare a box mix)
1/4 cup milk
8 oz cream cheese, softened
1/2 cup sugar
1 1/2 cups creamy peanut butter
1 c. heavy whipping cream, whipped until you have stiff peaks
chocolate ice cream syrup
1/2 bag gluten free caramels, mixed with 2 Tbs. milk and microwaved until melted (or you can use caramel syrup)
1 11.5 oz bag mini snickers, chopped, divided
DIRECTIONS:
1. Bake brownies in 9″ round pans until cooked through. Set aside to cool.
2. While brownies cool, chop Snickers and set aside
3. Whip cream cheese, sugar and peanut butter in a heavy stand mixer until well blended. Fold in whipped cream.
4. Using a spring-form pan, place a brownie layer at the bottom. Drizzle caramel & chocolate on top of brownie, then add a layer of Snicker's candy pieces. Spread half of the "ice cream" mixture on top of candy bars. (really, this is more like a mousse or no-bake cheesecake. It's rich and doesn't completely melt like ice cream)
5. Repeat layering, topping off with candy bars.
6. Freeze until completely set, about 2 hours.
7. Pull out of freezer about 15 minutes before you intend to serve it, otherwise you should be prepared to have a sharp knife and use some muscle to cut the cake!
8. Drizzle a little more chocolate and caramel over the top and be prepared to wow yourself…and friends!
(don't forget to follow me on Facebook: www.facebook.com/GFAFRecipes)