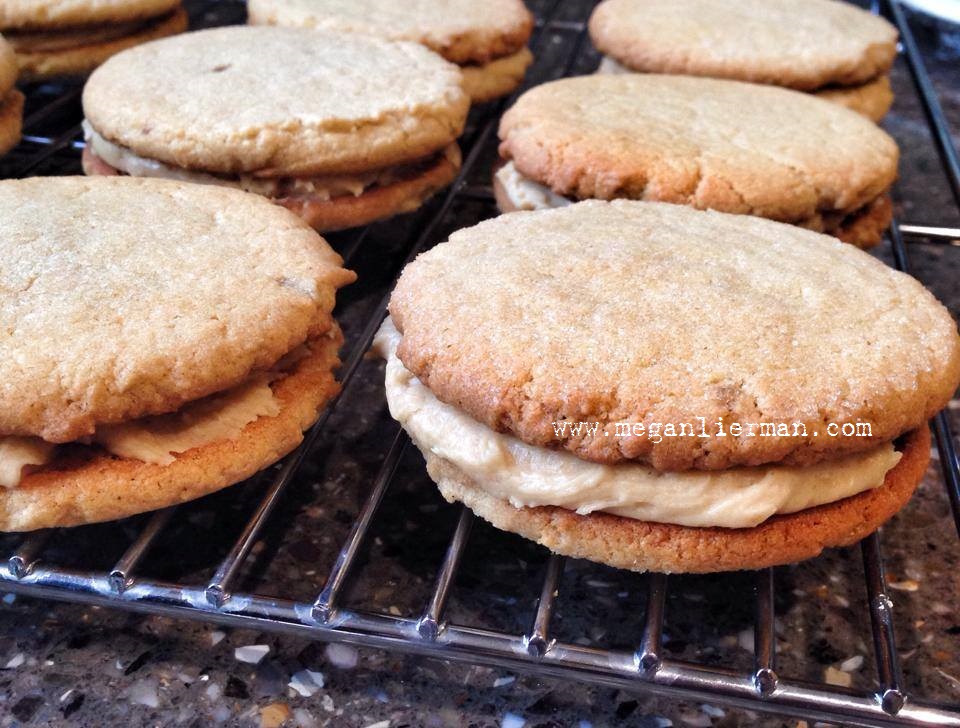 My husband usually isn't one to eat lots of sweets, but he CHOWED on these cookies. He had no idea they were gluten free! (Don't forget to follow me on Facebook: www.facebook.com/GFAFRecipes )
Cookie Ingredients:
1/4 c. butter or non-dairy butter
1/4 c. palm shortening
1/2 c. peanut butter
1/2 c. sugar
1/2 c. brown sugar
2 eggs (I haven't tried egg free yet, but I'd think it would turn out fine)
1/2 tsp. vanilla extract
1 1/2 c. gluten free flour blend (I use THIS one, but keep in mind it contains dairy)
1 tsp. baking soda
1/8 tsp. salt
Filling Ingredients:
1/4 c. smooth peanut butter
2 c. powdered sugar
1/2 tsp. vanilla extract
2-3 Tbs. milk
1. Preheat oven to 375 degrees.
2. Cream butter, shortening, peanut butter & sugars until light and fluffy.
3. Add eggs one at a time and mix until blended.
4. Add remaining cookie ingredients and mix thoroughly.
5. Refrigerate dough for about 10 minutes.
6. Once cookies have been chilled, butter a cookie sheet; using a small cookie scoop (I use THIS one), scoop balls of cookie dough onto the sheet.
7. Using a drinking glass, press the dough balls until they are about 1/4″ thick and uniform in appearance.
8. Bake cookies for about 7-8 minutes or until just starting to brown on the edges.
9. Cool cookies completely.
10. While cookies are cooling, mix all of the filling ingredients in a heavy stand mixer and whip well.
11. Frost the underside of one cookie, pressing a second cookie on top to create a sandwich.
12. Try to eat just one!