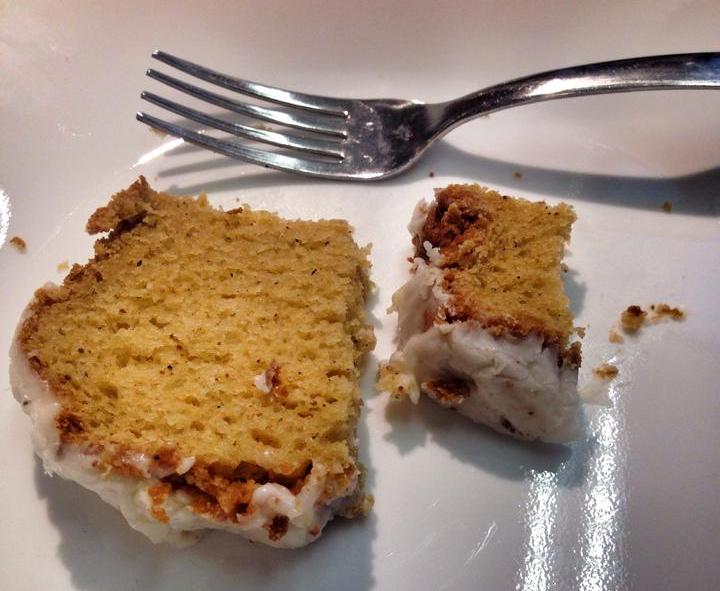 A few weeks ago I saw a recipe for frosted eggnog bread on Pinterest that sounded like something my office would enjoy…only there are two of us in the office that are gluten free, and one coworker is dairy free. So, here is that recipe with my modifications. I will note that I haven't tried making this egg free yet, but as with most of my bread recipes, I think it'll work just fine if you use 1 Tbs. flax meal mixed into 3 Tbs. of warm water (mix, set aside and let turn unto a gel) for the egg that is called for.
EGGNOG BREAD
1/2 c. nondairy butter at room temperature
1/2 c. sugar
1/2 c. brown sugar
1 tsp. gluten free rum extract
1 egg
2 cups gluten free flour blend
1 1/2 tsp. baking powder
1/2 tsp. baking soda
1 tsp. salt
1 tsp. nutmeg
1 c. So Delicious Coconut Nog (made with coconut milk–no dairy or egg!)
GLAZE
1 c. powdered sugar
2 Tbs. So Delicious Coconut Nog
pinch of nutmeg
1. Beat the butter and sugars;  add the rum extract and egg (or flax meal replacer) and beat again until creamy.
2. Add the baking powder, baking soda, salt, and nutmeg.
3. Alternately add the gluten free flour mixture with the nog into the butter mixture. Once combined, turn mixer on medium speed and let beat for 2-3 minutes.
4.  Bake at 350 degrees for 58-60 minutes in a standard bread loaf pan. Remove from the oven; let cool for 10 minutes. Remove from pan and let bread completely cool before adding glaze.
5. In a large glass measuring cup, whisk together the powdered sugar, remaining nog and pinch of nutmeg until a thick frosting comes together. Spread it over the top of the cooled bread. Let set. Store in a loosely sealed container on the counter.