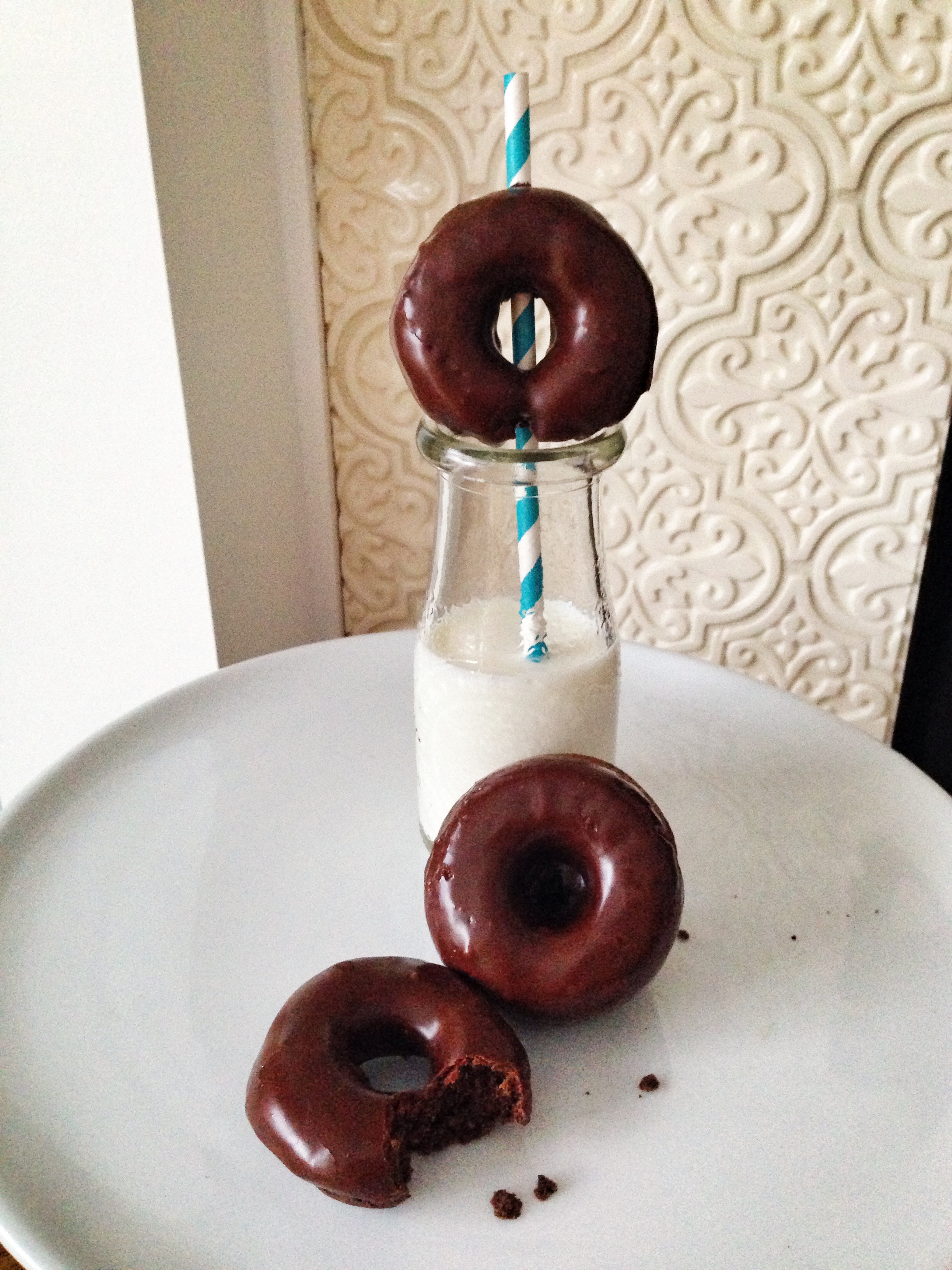 This morning I woke up craving a donut…a cake donut with chocolate glaze. And, since I'm not working for the rest of 2014, I decided to make some…after I worked out. 🙂 These took about 30 minutes from start to finish and my kids devoured half of them (the recipe made 1 dozen) in no time.
Donuts
3/4 cup gluten free flour
¼ cup  sugar
3 Tbs. unsweetened cocoa powder
½ teaspoon baking powder
½ teaspoon baking soda
½ teaspoon salt
¼ cup nondairy milk
1 egg (or you can use 1 Tbs. flax meal mixed into 3 Tbs warm water and set aside until it forms a gel)
½ teaspoon gluten free vanilla extract
2 Tbs. nondairy butter, melted
Glaze
2-3 tablespoons nondairy milk, depending on how thick you want your glaze
3 tablespoons cocoa powder
2 c. powdered sugar
Sprinkles (optional)
Directions
Preheat oven to 325
Mix dry ingredients together, then add liquids at the same time. Mix well.
Grease a donut baking pan (I use this one)
Spoon the donut batter into a disposable pastry bag with about 1/2″ cut off of the bottom, and pipe batter to each donut slot, filling about halfway. Don't fill them up or they will puff up and be ginormous. Trust me on this one…I might have tried it.
Bake 10-12 minutes or until the donuts are cooked through. Don't cook them too long or they'll be dry.
Once cooked, turn donut pan over and dump donuts onto a wire rack.
Whisk glaze ingredients together in a bowl. The dip the top, smooth edge of the donut into the glaze and press down so the donut is halfway submerged. Turn over and let dry on a wire rack. Repeat until all donuts are glazed.
Try to eat just one!