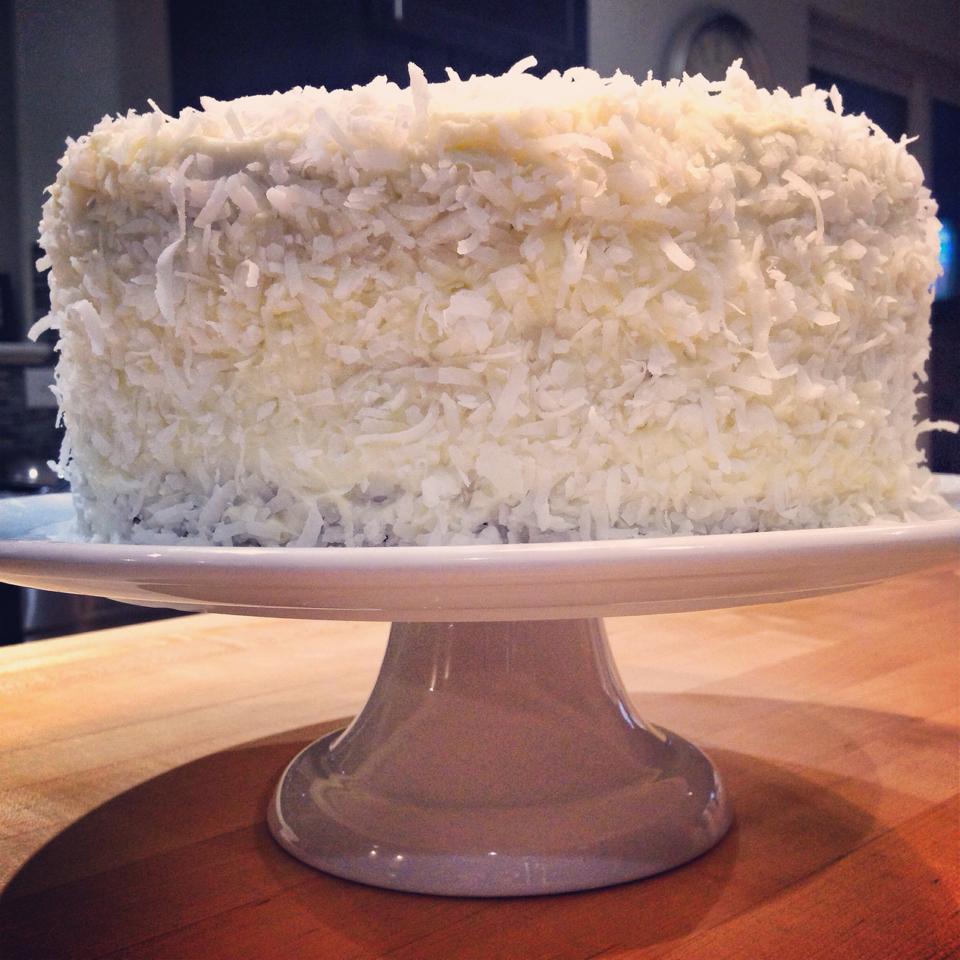 I found a recipe for coconut cake on Pinterest from Cooking Classy and it looked great, so I thought I'd convert it to be gluten free and make a few tweaks. My kids and coworkers loved the cake…some didn't even know it was gluten free!
Ingredients
3 cups gluten free all purpose flour (I use THIS one)
1 Tbsp baking powder
1/2 tsp. salt
2 cups  sugar
3/4 cup butter or nondairy butter, at room temperature
1/4 cup coconut oil, melted
1 can full fat coconut milk
2 large eggs, at room temperature, yolks and whites separated, plus two more egg whites
1/8 tsp cream of tartar
1 1/2 tsp. coconut extract
1/2 tsp vanilla extract
1 c. shredded coconut
Coconut Cream Cheese Frosting
12 oz. cream cheese (1 1/2 packages), at room temperature
3/4 cup butter or nondairy butter at room temperature
1 1/2 tsp. coconut extract
5-6 cups powdered sugar
1 1/2 cups shredded coconut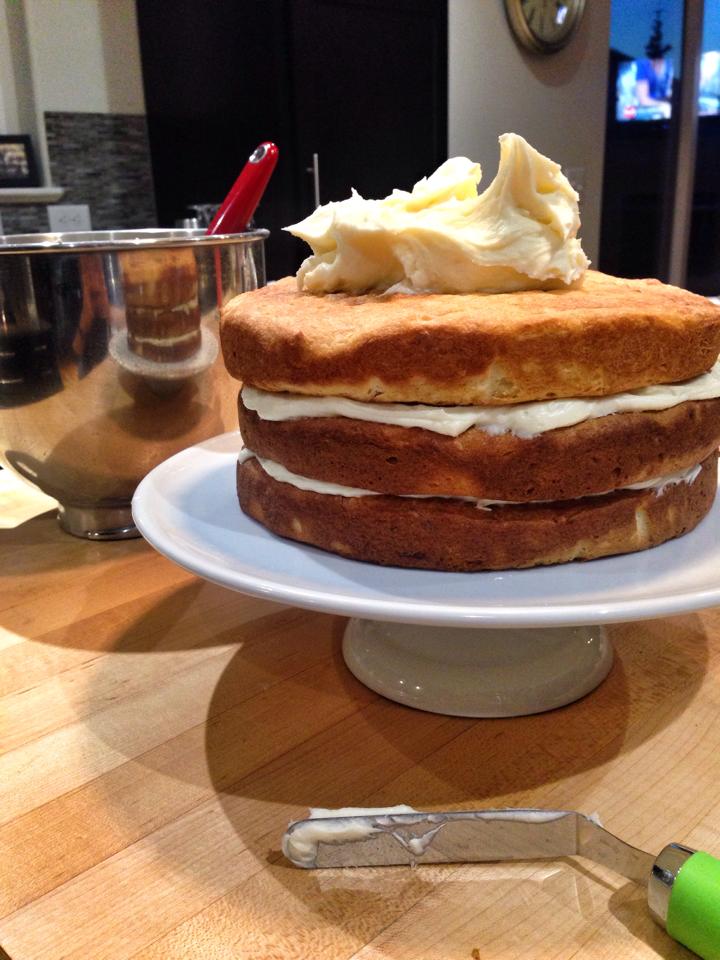 Directions
Preheat oven to 350 degrees. Grease three 9″ cake pans and set aside.
In a  bowl, mix your gluten free flour, baking powder and salt.
Using a stand mixer, beat butter, coconut and sugar until well incorporated, then add coconut and vanilla extracts and egg yolks.
Alternately add milk with the flour blend; stir until just blended then add shredded coconut.
Whisk egg whites until stiff peaks form; fold into the cake batter until thoroughly mixed.
Divide the batter evenly between the three cake pans, smoothing with a spatula so that the batter level is flat (it'll be fairly thick).
Bake 18-20 minutes. *I cooked mine on convection and it took 19 minutes.
Remove pans from oven. Let cake cool about 5 minutes, then remove cake from pans and let cool completely on wire racks.
Make frosting: whip cream cheese and butter until light and fluffy, about 3 minutes. Add extract. On low speed, add one cup of powdered sugar at a time. Once desired spreading consistency has been reached, turn mixer on high for a minute to whip frosting. Spread frosting between cake layers; after frosting top layer, frost sides of cake. Sprinkle coconut flakes in your hand and press along the sides of the cake to get coconut flakes to adhere; sprinkle remaining coconut on top, pressing lightly.
Cut, serve cake & enjoy!
Keep leftovers in the refrigerator to help maintain moisture.