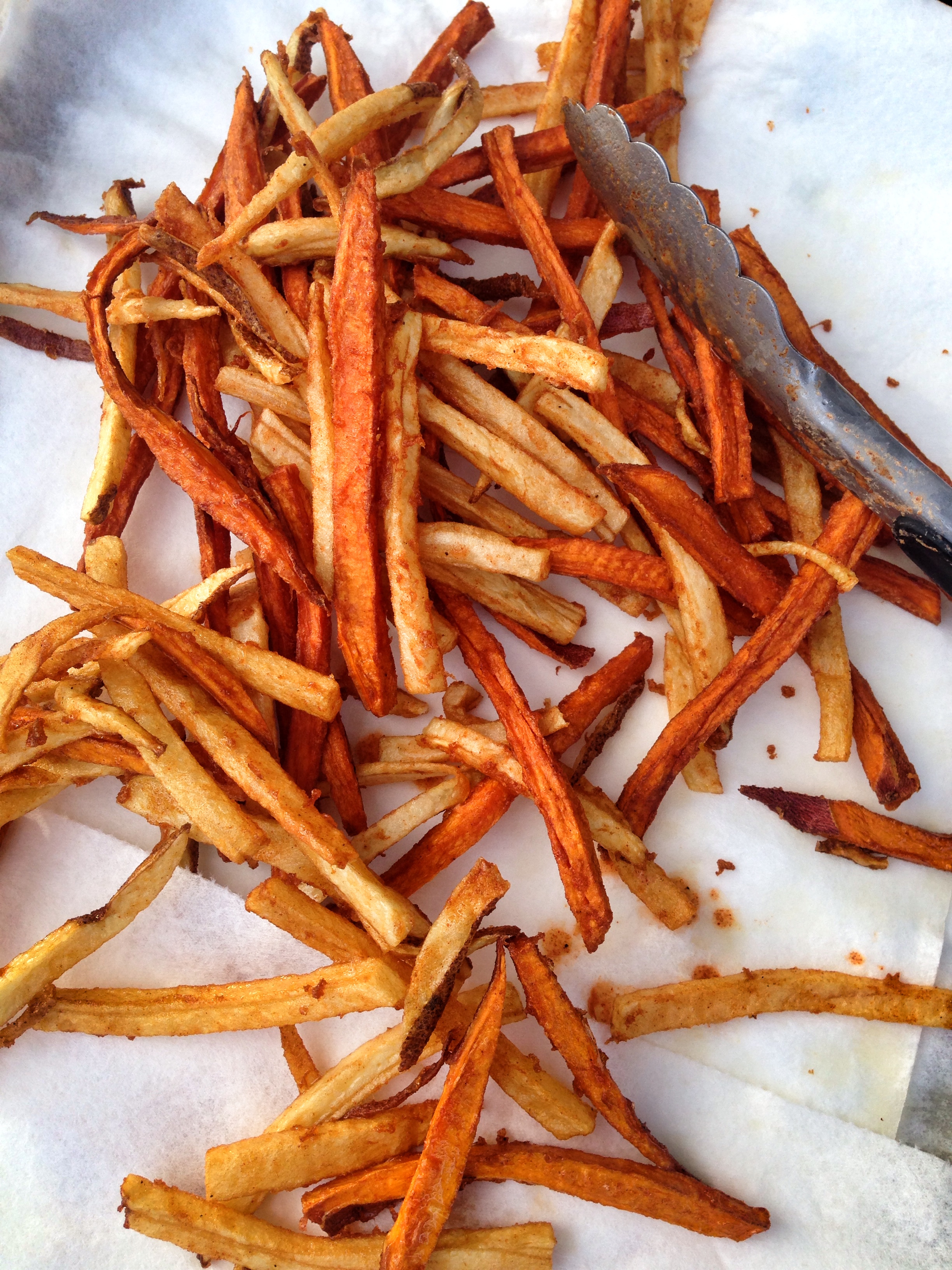 Who doesn't love French fries? Nobody! Well, that's not true…my 8 year old HATES French fries for some reason. He always has. What a weird-o. My 5 year old, on the other hand, would eat them for every meal if we'd let him. I personally used to LOVE Arby's curly fries, so I scoured the internet to find a knock-off recipe that I could convert. You can make these with curly potatoes using a spiralizer or regular cut fries, and keep in mind that you can control how much seasoned coating you get by the thickness of your batter…play with the amount of water until you get it to your liking.
Ingredients:
3-5 potatoes (I used Russet and sweet potatoes), scrubbed and cut into desired shapes
1/2 c. gluten free flour blend (if you don't have a blend, use superfine rice flour)
2 tsp. salt
1 tsp. onion powder
1 tsp. garlic powder
1 Tbs. paprika
3/4 c. water
oil for frying
1. Cut your potatoes and place in a large dish; cover with boiling water and set aside for 15-20 minutes. This will allow the potatoes to start to cook, and will allow for a crisp fry with tender insides.
2. Mix flour and spices in a resealable bag. Add half of the water and smoosh around until there are no flour clumps. Add more water until the batter is thin enough to coat evenly.
3. Turn your fryer on and heat oil to 365 (or pour into a pan and heat oil–make sure you use a thermometer or you could completely torch your potatoes if it is too hot!).
4. Drain potatoes, pat them dry and throw them into the resealable bag. Toss until evenly coated. Using tongs, remove as many that will fit in your fryer or pan without being crowded. Fry for 3-5 minutes or until golden brown and crispy.
5. Place on a paper towel to drain off excess oil and season with additional salt if needed. Place in a warm oven to keep hot until all fries have been cooked.
6. Repeat with remaining potatoes until all of them are done.